SCRAPPING CLEARLY JUNE CHALLENGE 2016
OK. I've given in. Seems challenges work for me best! And this one really
tickled my fancy 'cos it involves a RAK. Marelle is giving away one to the 1st
long as you can also say how many LIQUITEX PAINTS are in the shop.
I am Mathematically Challenged. But I counted, then double counted.
Came up with 49. Not including markers or sprays. Actually, the markers
looked really interesting.....LOL!
ANYWAYS, here's the YUMMY mood board:
I went to bed dreaming of a white, CAS LO with Distress inked plastic bag
smooched bg something like this by my scrappy friend
Anna U
:
Yeah. RIGHT. In my dreams apparently. Cos this is what happened.
Still following the mood board [note yellow sequins!]. But hey! No lightness here.
I still like it, though;)
Closies:
The photos are framed with my attempt at pink, black and gold background paper
that didn't work..... least I used it! That's a
Feed Your Craft
flair in there.
I also liked Anna's idea of stitching through words....
Mitra
sent me these. Finally used!
The little heart is stamped on more of my ex-background paper & I used one of those
clear sticky rounds to make a 'pretend' flair:)
One of the most special birthdays ever, I must say!
Some clear stickers & I've taken the stripes from the inspiration photo & made my own!
That 'wow' was yellow acrylic [thanks Mitra again!!!] & I've heat embossed it in gold.
You can still see the yellow. V pleased with it! Also backed with some more of the
failed bg card stock!!
So, crossing my fingers my Maths doesn't let me down! Who doesn't like some Goodies?
AND I'm so pleased I've gotten #2 of my OS LOs done.
Oh! And I sent Anna a photo of me at our local bakery, which she asked if she could scrap.
Look at how wonderful a job she's done: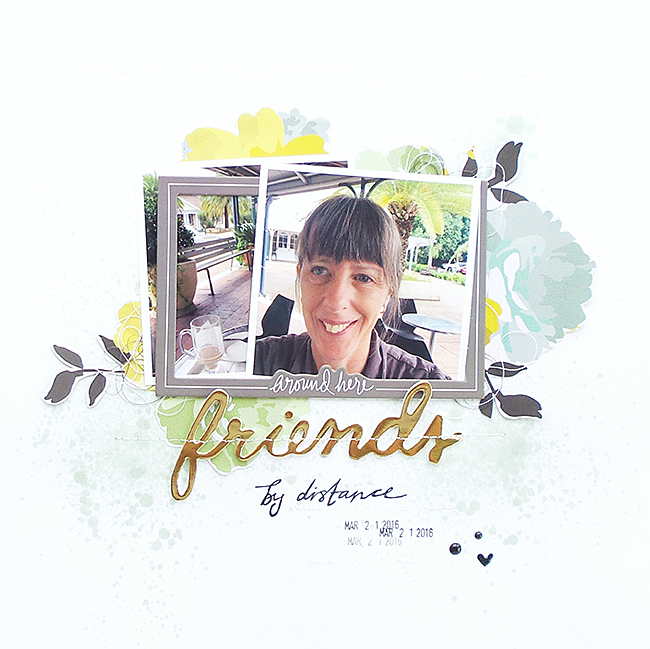 One day, ONE DAY...I will conquer this lovely CAS style!!!!
Thanks for looking ~ Cheers, Lizzy H