Cards, cards, cards....
Well, you see. The problem is by the time I get all my DT stuff up, I've used up a pile of days of blogging. Not that I'm complaining....but that's the reason I'm popping all my card challenge entries into this 'ere post!
And that is the most talking I'm doing for this post;)
#1 for NSD Sketch:
I've turned the sketch clockwise once:
OK...can't help myself! I used die cut flowers from a Let's Get Arty win.
The lace is from Zeus and Zoe. That green-ish bg paper WAS white [!!].
And the 2nd card for National Scrapbooking Day is this sketch:
I wanted to play with gold. So, some heat embossing & glittered up Silly sentiment!
~~~~~~~~~~~~~~~~~~~~~~~~~~~~~~~~~~~~~~~~~~~~~~~~~~~~~~~~~
You can also use flowers if you want. So I wanted;)
I used one stamp, inking it up with the 3 colours, then repeated this to create the background:
This one made me happy. I hope it does you too:)
~~~~~~~~~~~~~~~~~~~~~~~~~~~~~~~~~~~~~~~~~~~~~~~~`
NEXT...yeah..... stop the eye rolling.....LAST one, OK???!!!!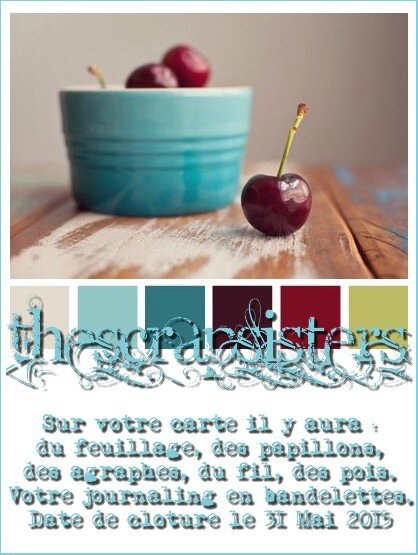 Now for you non-French speaking peeps [this would include me!], I'm saying thank goodness for French scrappy friends to ask what is what. When I Googled 'des pois' it came out of google translate as 'peas'!!! It's CIRCLES. Plus leaves, butterflies, staples, thread and journaling strips....& the colours, of course.
Then, after I created a page using some burgundy paint, I used the leftovers up on some bg paper....so,
since it was the right colour, I created a 2nd card for the challenge.
I'm not sure if you can enter two. But if I can't, then The Scrap Sisters can pick which one they like best!!!
Thanks Lizzy C for the GORGEOUS butterflies below!!
Sooo.... you've made it to the end!!
Pat on the back time!!!
Blessings ~ Lizzy ♥♥♥
THANKS TO & GOODIES FROM: