ONE LAYER CHRISSY & SCRAP SISTER CARD challenges:
So, I did the optional twist. Once again I've used the BOKEH effect on the background.
It's amazing how you can transform a plain piece of white card :)
Here you can see the 'bokeh' stars & my silver glitter heat embossing of the Christmas tree:
Couldn't resist this little French chrissy greeting, either...
...which leads me to the next challenge!
************************************************
Here is my entry into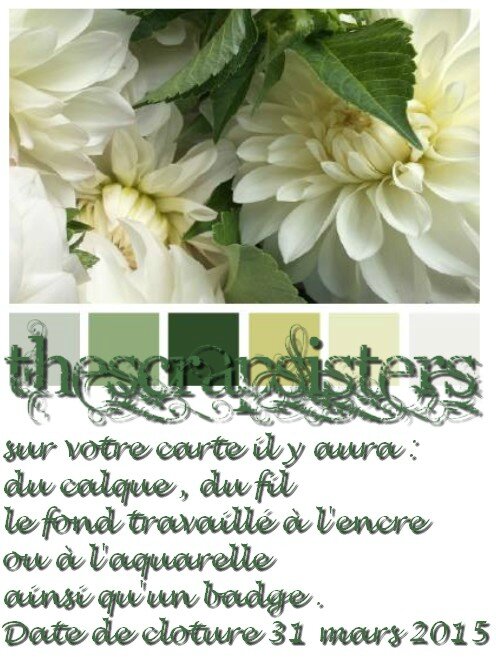 OK, so I'm not fabulous at French - but you need to use the colour palette plus LAYERING, background of WATERCOLOURING, THREAD & at least one flair. Pretty NICE challenge!!
And it's all there!!!
The flowers are from
DUSTY ATTIC
.
The little leaf swirl on the left came with my
CCC card
from
GAIL
! Thankyou;)
This is one of the 4 'kits' I made up for myself when I was fortunate enough to spend a couple of scrappy days with these special scrappy friends -
Sandra
&
Mary
:
These are such gorgeous girls and it was a wonderful time AND we scrapped, not just talked;)
Thanks for your scrappy support & checking out my 'creations'
Lizzy ♥♥♥