THE SCRAP SISTERS Challenge ~ A LO:
Here's my next entry into
THE SCRAP SISTERS
challenge. Still following the mood board: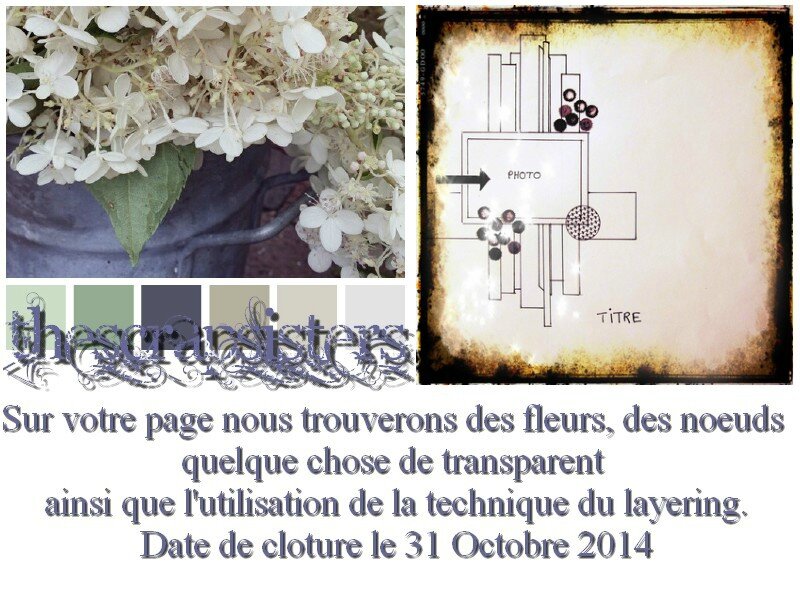 The beauty of doing this challenge is that you can enter a card, tag or page.....or all 3! And because you've got the right colours and goodies out to make them you can just keep on creating with them. So, a great STASH buster challenge!!!
My page:
I've used some transparent stickers & some vellum behind the photo - hand stitched on. Something weird is going on. I HATE hand sewing. I'm not overly fond of flowers....but since they were a requirement of the challenge, I got 'over myself'....& errrr quite enjoyed adding them!!!!
The little clouds came from my
CRAZY MONDAY KIT
leftovers...the 'you and me' tab from a
Flutterby Designs
prize win...& I've popped a pile of washi as a photo mat...then gessoed it to blend and soften...
You needed to use a bow [noeud] - so I popped in my beige with a bow:)
The 'you and me' refers to my lovely Daughter in Law with her Grandmother, who she is very, very fond of, but unfortunately lives in NZ....so it's a really special time when they get together:):)
To get the green, I used Luminarte Twinkling H2Os ....over a little glitter that I'd previously stuck to this page:) I really enjoyed using the watercolours....of course, I prepped my page with gesso first:)
Happy Scrapping ~ Lizzy ♥♥♥