Scrap Sisters Card & D'Lish Scraps Challenges
Bonjour! I can start like that, since the
SCRAP SISTERS
is a French challenge blog! Or I see a lot of peeps say 'Coucou'....which is quite a cute greeting, I reckon....anyways, I digress!
The challenge over there is for a card, tag &/or a LO. I'm endeavouring to do all 3!!!
Here's the sketch & colours: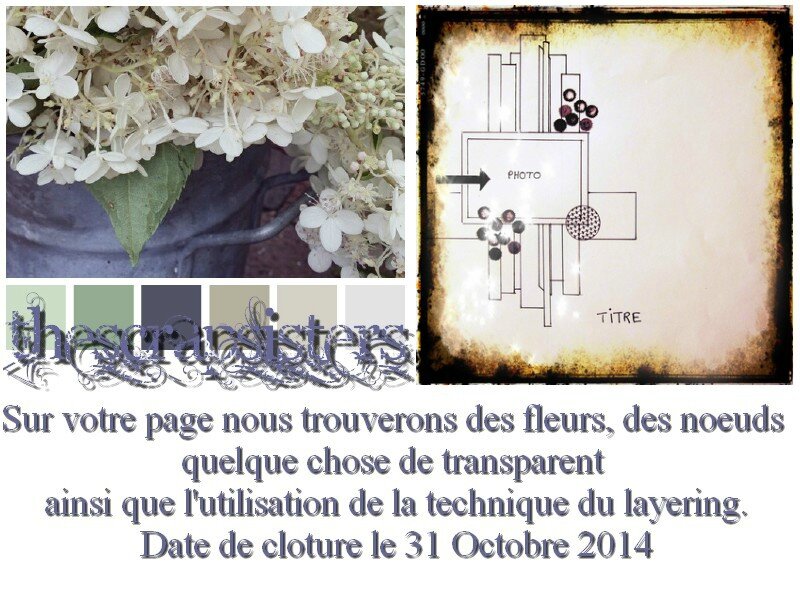 The colours are light & mint green, beige, taupe, white/cream & a grey [steel].
The REQUIREMENTS are to use FLOWERS, something TRANSPARENT, LAYERS & 'noeuds'. Well, that stumped me. It stumped Google translate too, which made it into 'nodes'. Ummmm...thank goodness for my friend
Marie-Christine
.....she sent me a photo. It's a BOW!!!
Here's my card:
I have embossed the vellum, which is a light green...all the colours are there. In fact, I grudgingly used that lovely sparkly 'rose' that
Mitra P
sent me ages ago. One of those things you really, REALLY like & don't wanna use.......anyway, it's done now!!
My bow is a big one, behind the whole flower cluster....& I've actually got a little banner UNDER the vellum...
...and another layer under the sentiment:) I really, really enjoyed making this flower card.
There's hope for me yet!!!!!
So, I have covered the criteria....
Meanwhile:
D'LISH SCRAPS
have a mood board challenge, with an optional sketch, which I didn't use:
I had this lovely photo of my step grand girl, & it just fitted the colours so well:) And it was the colours I went with, as well as the flowers:):)
Also, I have to think
Lindy G
for the lovey BoBunny goodies and some flowers she gifted me - both have been used a LOT here:)
Keren Tamir
. The chippy is
Dusty Attic
...
Zeus & Zoe
,
Meg's Garden
,
Dusty Attic
...
Crazy Mondays kit
.....
Thanks
D'Lish
for a wonderful mood board:):)
As always, thanks so much for popping on by ~ Hope you had fun looking!
&
Happy Scrapping ~ Lizzy ♥♥♥
PS: Don't forget my GIVEAWAY - link on the sidebar!!